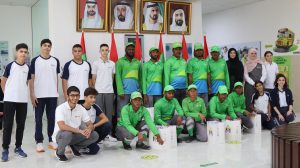 We had a wonderful day at Masar Private School when we welcomed the Employees from the Environment Group. It was a day to show our appreciation for their fantastic work in making Sharjah a cleaner and more environmentally friendly place.
To say thank you, our students gave small gifts to the cleaners. These tokens were a way to show how much we value their hard work and dedication.
The visit left a lasting impression on everyone. It reminded us that a clean and green environment is a goal we can all work towards.
Our gesture of honoring the cleaners from the Environment Group was a small way to show our gratitude. It was a day filled with warmth, appreciation, and a shared commitment to a cleaner, better world.